Our Radiologists are among the finest anywhere in the US.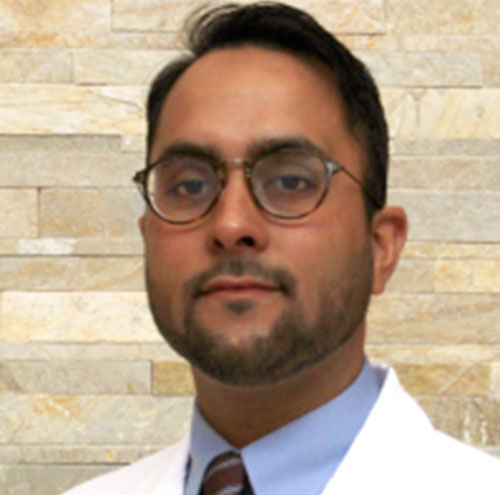 Dr. Feraz Rahman is originally from Raleigh, North Carolina. He attended Duke University where he majored in Computer Science while minoring in neuroscience and Arabic. He completed a Master of Science degree in neuroscience at the University of Pennsylvania and stayed in Philadelphia for medical school at Jefferson Medical College. During medical school he dedicated time to neuroradiology research at the University of North Carolina where he returned for residency. This was followed by a fellowship in Vascular and Interventional Radiology at Emory University in Atlanta, Georgia.
Dr. Rahman, like his colleagues at AMR, believes strongly in practicing clinical patient-centered interventional radiology and offers the full spectrum of IR.  Dr. Rahman has special interest in peripheral arterial disease, venous insufficiency, pelvic pain, and uterine fibroid embolization.  He has strong experience and interest in oncologic treatments such as thermal ablation and intra-arterial therapies including Yttrium 90 radioembolization.  He also performs portal hypertension therapies including transjugular intrahepatic portosystemic shunt (TIPS) and balloon occluded retrograde obliteration of gastric varices (BRTO) as well as complex hepatobiliary interventions.
Medical School: Jefferson Medical College, Philadelphia, Pennsylvania
Residency: Diagnostic Radiology, University of North Carolina, Chapel Hill, North Carolina
Fellowship: Vascular and Interventional Radiology, Emory University, Atlanta, Georgia
Board Certification: Board Certified in Diagnostic Radiology, CAQ eligible in Vascular and Interventional Radiology
Professional Memberships/Offices/Academic Appointments:
Diplomate, American Board of Radiology (ABR)
Member, Society of Interventional Radiology (SIR)
Member, American College of Radiology (ACR)
Member, Radiological Society of North America (RSNA)
Member, American Roentgen Ray Society (ARRS)
Special Clinical Interests:
Peripheral arterial disease (Angiography, Angioplasty, and Stenting)
Venous insufficiency (Endovenous laser/radiofrequency ablation, angioplasty, and stenting)
Venous thromboembolic disease (Deep Venous thrombosis and Pulmonary Embolus thrombolysis/thrombectomy)
Liver directed therapy (Yttrium 90 Radioembolization, Chemoembolization)
Tumor ablation (Cryoablation, Microwave/Radio Frequency Ablation)
Liver directed therapy (Yttrium 90 Radioembolization, Chemoembolization)
Portal Hypertension (TIPS, BRTO, Denver Shunt creation)
IVC filter retrieval
Uterine fibroid embolization
Pelvic Varices embolization
Varicocele embolization
Vertebral augmentation (kyphoplasty, vertebroplasty, sacroplasty)
Mesenteric Ischemia
Renal artery stenosis induced hypertension
Hepatobiliary intervention (Biliary stenting and percutaneous gallstone retrieval)
Dialysis interventions
Interventional Pain management (Celiac plexus neurolysis, Facet neurolysis)
Contact Info